There seems to be a time in your ( working) life when you take on the charity role.  I am particularly referring to " staff!"  .  Having had a bit of an exit of the Old Guard, thank The Lord, we are now left with ladies of a certain age from Latin America looking after the office and running the Social Programme ( Americans, please note the correct spelling of Programme!). 
Now before the Humanity Police come and knock on my door, I want you to know that its never without cause that I throw a punch or two in that direction.   I had asked "the Panamanian" to order some balloons, with our logo on, to give out at our Farewell party nights or at least to festoon around the Hall in gay abandon when its someone's birthday.  Its quite an easy task, even if English is not your first language! Yes?   No! No! No!
Now obviously she got the word " balloons" and she got the word " birthday" but not a lot more.  I had assumed that she would download our logo …oh and our company name might be good as I never like to miss a Marketing Moment.  Finished off with  a few dozen balloons in company colours so that we could do a bit of corporate matching along with the marketing whilst allowing the students to have a good time on their final day.
Our core audience is under 18 years and if I am honest the approximate age is probably around 15 years. Its something to bear in mind, please, whilst getting through the rest of this story.  They can still get excited by a few balloons and some chocolate cake on  a plate, so throw me some slack here.    So there we were doing the planning for the Farewell party when Irma ( Mrs Panama) said " its ok… I have the balloons ordered"
" Really?" our Marketing Manager said.  " You have ordered the balloons?"
" Yes, Miss Joss and I got a great deal"
" How great?" we asked
"Oh really great…they are sending 100 free balloons as samples and in return we have to agree to order 5,000 more next time!"   She smiled around the table.  Okay, it was more of a sneer as she thought she had been particularly clever and it would quite make " her mark"  The rest of us were not so sure.
"Err.. I am not sure we will get rid of 5000 balloons in a hurry.  That's an awful lot of rubber we are purchasing.  What are the samples like and what happened to thinking about Dolphins and Turtles?"
"its ok." she said, " Mr Wu can blow them up.  He can get a balloon puffer ( WTF???) and erect them!" she said somewhat smugly.  Yes, I think the word she meant to use was "inflate" and not "erect", but who cares?  By this stage she had ordered 5000 balloons and trying to explain the difference between erect and inflate would have made me seem somewhat of a Pedant!  In the meantime we were putting up with a few samples.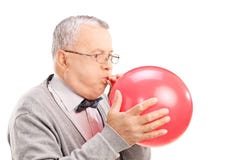 The day of the party dawned and we still only had the sample balloons.  It fell to Irma and Mr Wu to sort out the balloons, either with hot steamy breath or a Balloon Puffer, and so I sent them over to the classes with the package, as yet unopened.
An hour later Mr Wu came back.  " I have to report a situation" he said, standing at the top of the stairs, looking very red in the face.  You have to imagine a 6ft china man speaking in broken English to really get into the moment!
" The balloons are not good! Bad.  Really bad"  and he shook his head so hard I was convinced it would come off his neck
"Not good, Mr Wu, what ever do you mean?  Cant you blow them up?"
"Come see. Come see. Now, now, quick, quick" and he took my arm and lead my across the road helping me into my coat as I negotiated the lunch time traffic.
I entered the building and up the stairs.  I saw Irma looking very sheepish at the kitchen table having blown up a few.  Nothing else seemed to have been started.
" What's wrong?" I ventured again
"Balloons.. we have balloons.  No problem.  Even birthday balloons.  We can use these tonight for someone's birthday. " 
She tried to push me out of the kitchen  but I noticed she seemed uneasy so I was not convinced
I stepped forward and extracted the balloons which were, for some reason, hidden behind her back.  " They wont notice in the dark! No one will see" she said as I looked at the balloons and digested the situation.  Then at her.  And then back at the balloons.
"Irma" – I screamed " You're fired"
When we returned to the Office, Irma, not one to take a defeat lying down countered
" I don't do admin jobs and clicky clicky on the desk ( she meant the mouse, I think)  I do managerial jobs.  My last job was big assistant at the Bank of Panama"
Lovely Man looked at her and said " and what type of balloons did you buy for them Irma?"
Case close, M'Lud!!